The Best Lobster Mac and Cheese
Our Lobster Mac and Cheese is a delectable cheesy masterpiece full of succulent chunks of fresh lobster. Indulge in this rich and creamy mac and cheese that is perfect for seafood lovers!
While you are here be sure to checkout this Cajun Fried Corn on the Cob! Here is a delicious and easy to follow Lobster Tail Recipe too.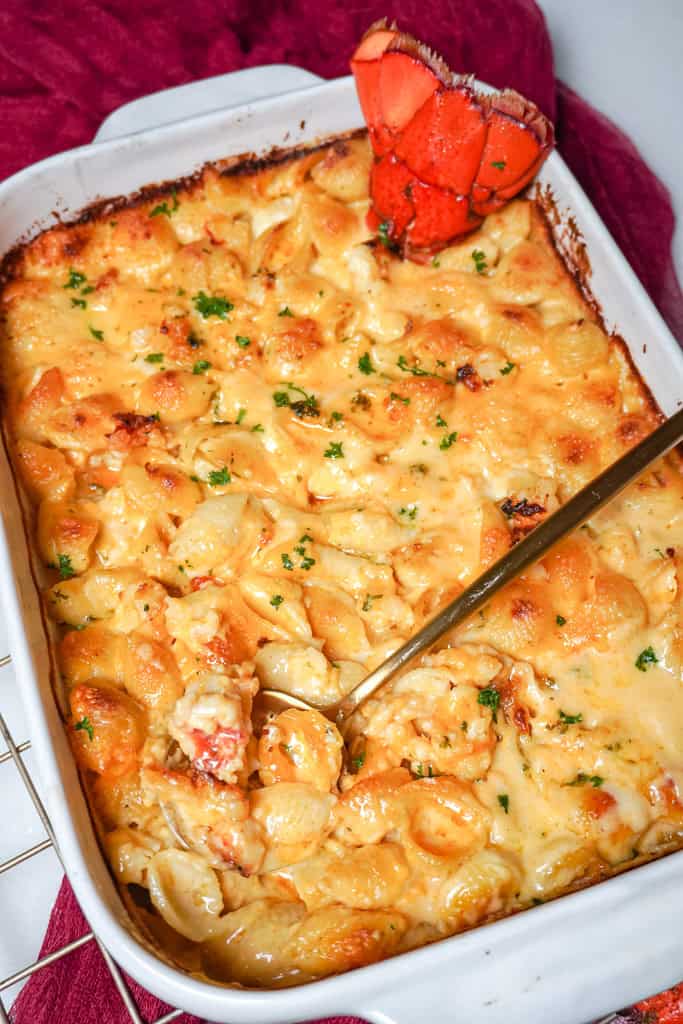 Why you will love lobster Mac and cheese:
The best combination! It combines two highly popular and delicious ingredients: lobster and macaroni and cheese.
Elevated! Serving lobster in this dish makes it feel more elevated and luxurious, contributing to its overall likability. It's the best side dish for your next date night!
Delicious! Lobster brings in a succulent, tender, and slightly sweet flavor, while macaroni and cheese offer a comforting and creamy taste. The combination creates a rich, indulgent, and satisfying dish that appeals to a wide range of taste preferences.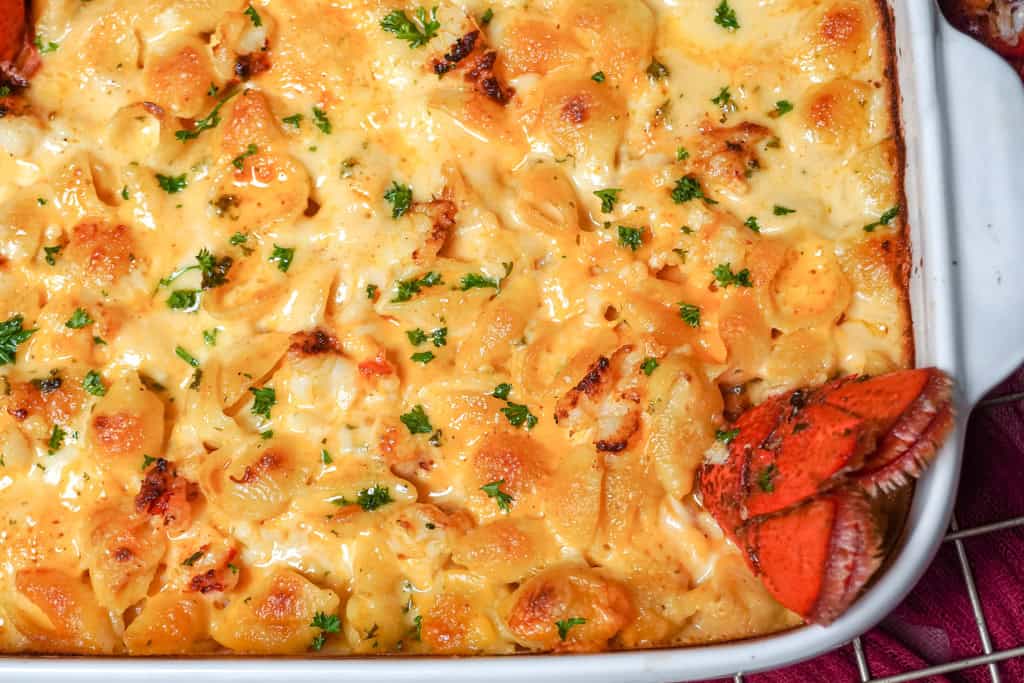 Ingredients for seafood Mac and cheese recipe
To make delicious lobster mac and cheese, you will need the following ingredients:
1. Fresh or cooked lobster meat: buy pre-cooked lobster meat or lobster tails from your seafood department at your local grocery store.
2. Pasta: elbow pasta or shells will work.
3. Butter: use unsalted melted butter since you will be adding seasonings.
4. All-purpose flour: this flour mixture is to make your cheese sauce
5. Whole milk: heavy cream and whole milk are best for this recipe
6. Shredded cheese: Such as cheddar cheese, gouda, gruyere cheese. Don't use pre-shredded cheese!
8. Seasoning: cajun seasoning, or seasoned salt, garlic powder, and fresh herbs to garnish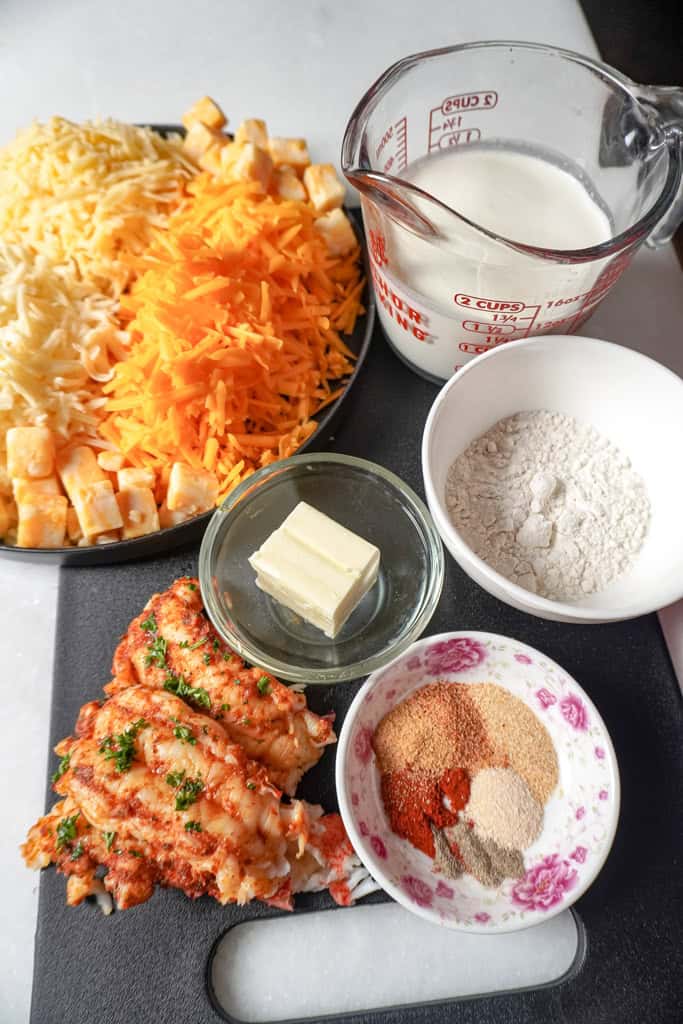 How do you make lobster macaroni and cheese
To make lobster macaroni and cheese, start by cooking the lobster. You can either boil or steam it until the shell turns bright red, indicating that it is cooked through. To boil the lobster tails, add them to salted water when it comes to a boil over medium heat.
Next, remove the meat from the shell and chop it into bite-sized pieces.
Now, prepare the macaroni and cheese. Cook the macaroni in a large pot according to the package instructions (bring cold water to a boil and make sure it is salted water) until it is al dente, for about 10 minutes.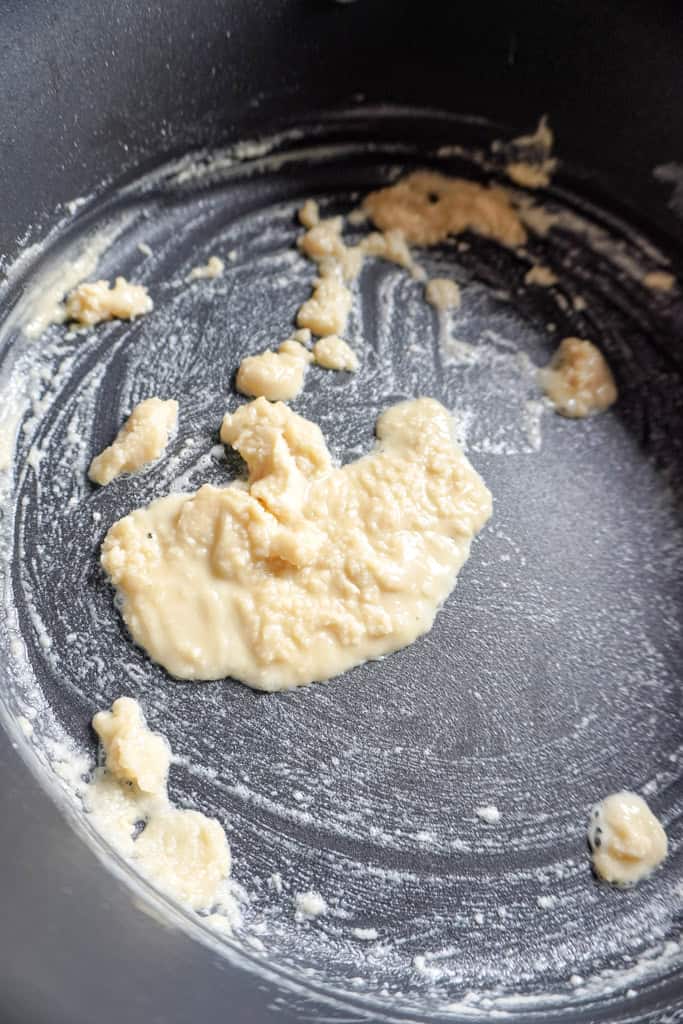 Cheese recipe for lobster mac
In the meantime, create a cheese sauce by melting butter in a saucepan, then add flour to make a roux. Gradually whisk in milk and heavy cream until the mixture is smooth, then some of the cheeses.
Stir the sauce until the cheese is completely melted and the mixture is smooth and creamy.
Once the macaroni is cooked, drain it and combine it with the cheese sauce, ensuring that every piece is coated. Then, fold in the cooked lobster pieces.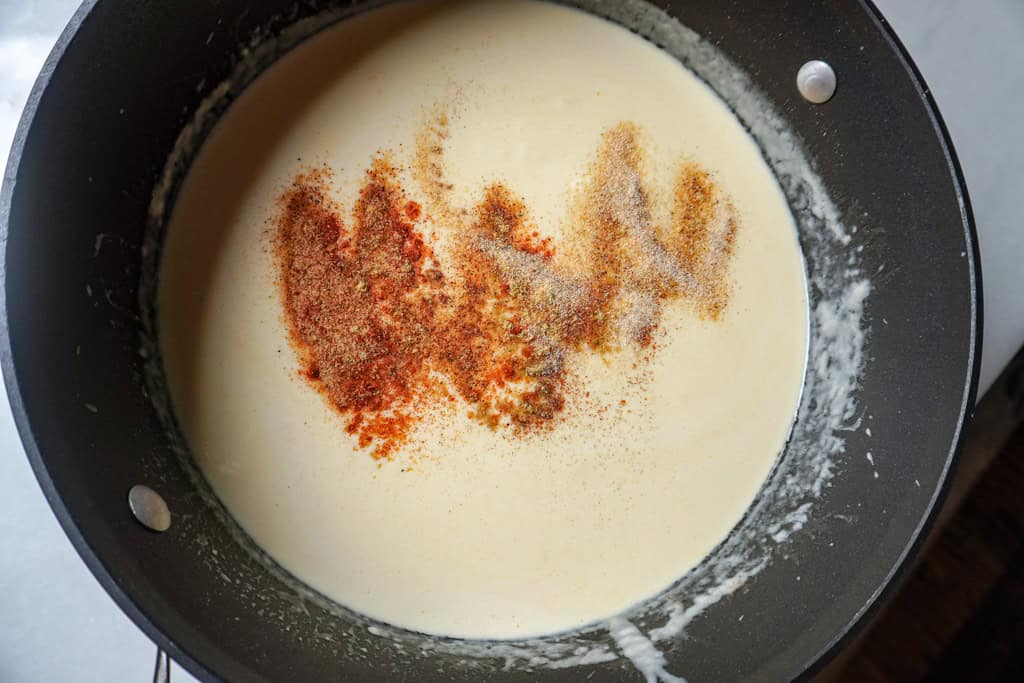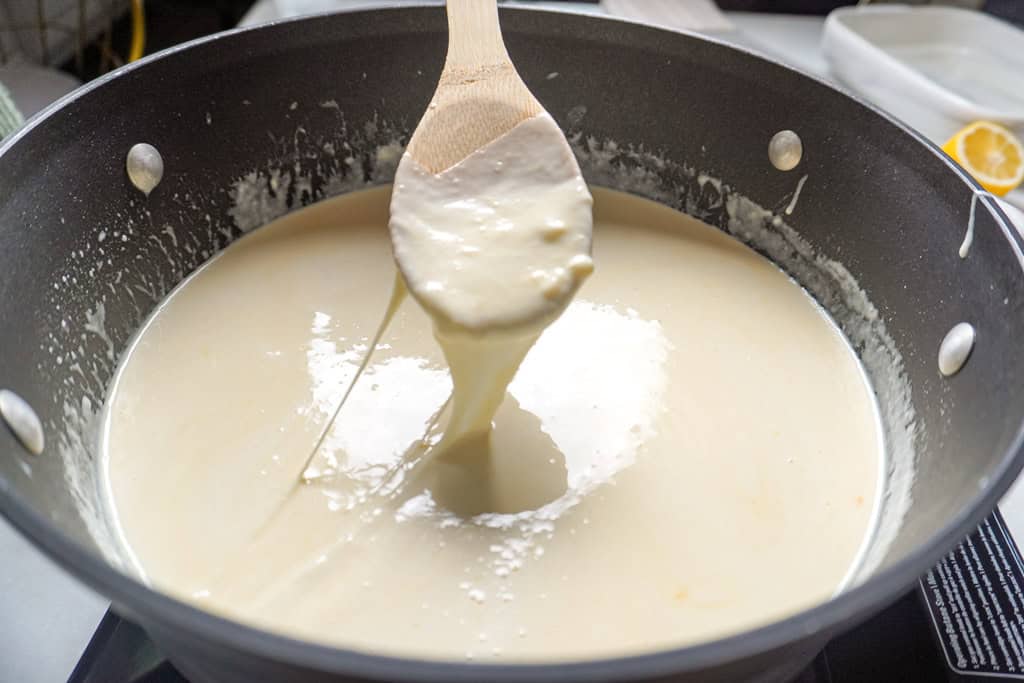 Next, spread the mixture into a baking dish and top with the remaining cheese. You can also add a breadcrumb topping with mixture of breadcrumbs and grated Parmesan cheese, which provides a crispy topping (which is optional).
Finally, bake the lobster mac and cheese in a preheated oven at 350 degrees F (175°C) for about 20 minutes or until the crust is golden brown and the cheese is bubbling.
Let it cool for a few minutes before serving, and enjoy!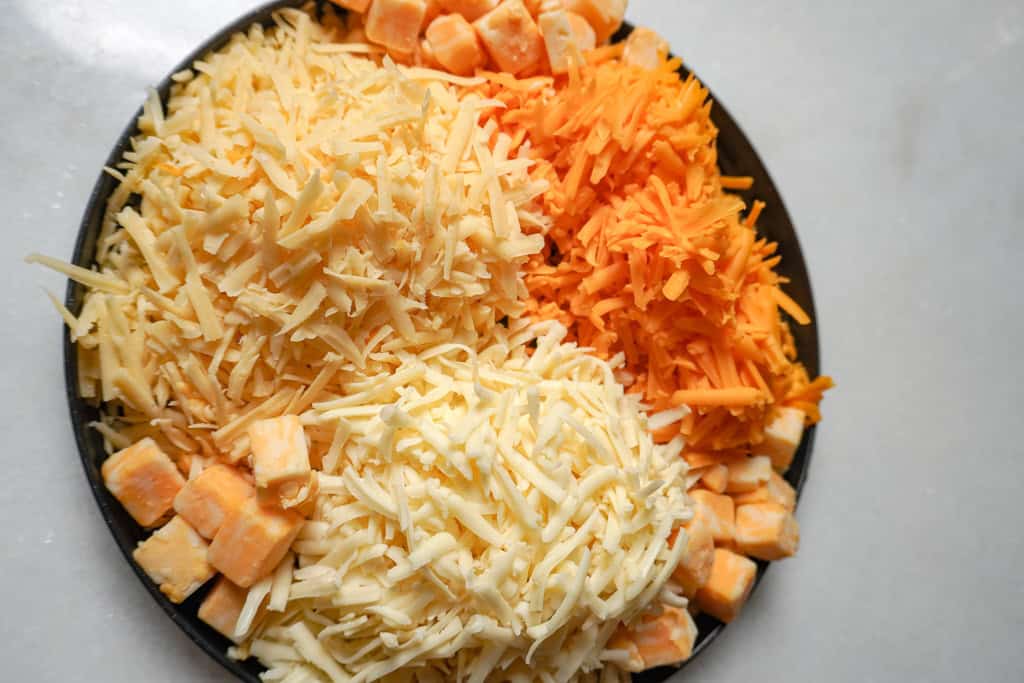 The best cheese to use for macaroni and cheese
There are so many varieties of cheese ingredients to choose from, but the best ones for seafood mac and cheese are: sharp cheddar cheese, gruyere cheese, and gouda cheese.
The sharp cheddar provides a strong tangy flavor, while the gouda and gruyere cheese add a creamy and nutty element. The combination results in a delicious and well-rounded cheese sauce for your mac and cheese.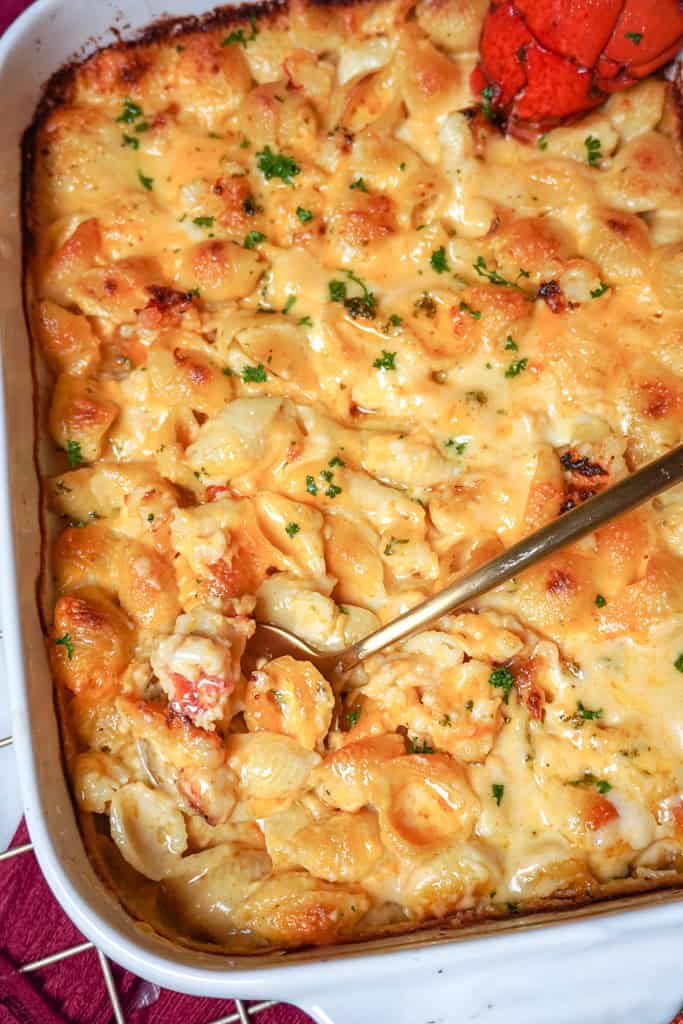 Tips and variations for baked macaroni and cheese with lobster
You can add different types of seafood to make a seafood mac and cheese. Try adding some shrimp or even crab meat to the macaroni.
Another great tip for making lobster mac and cheese is to make sure you use quality ingredients. Specifically fresh lobster meat and high-quality cheeses.
Use freshly grated cheese instead of pre-shredded cheese! You can add some extra flavor by adding in some bacon, truffle oil, or mixing in fresh herbs such as chives and parsley.
More cheesy side dishes you'll love
Yield:

8 Servings
The Best Lobster Mac and Cheese
Our Lobster Mac and Cheese is a delectable cheesy masterpiece full of succulent chunks of fresh lobster. Indulge in this rich and creamy mac and cheese that is perfect for seafood lovers!
Ingredients
3 Lobster tails, cooked and chopped
1 pound Elbow macaroni noodles
2 tablespoons Butter
2 tablespoons Flour
1 cup Heavy cream
2 cups Milk, 2% or evaporated
2 cups Smoked gouda, shredded
2 cups Sharp cheddar, shredded
2 cups Monteray Jack, shredded
1 cup American cheese, cubed
Seasoning
1 tablespoon Seasoned salt
1 teaspoon Old bay seasoning
1 teaspoon Black pepper
1 teaspoon Garlic powder
1 teaspoon Onion powder
Parsley, chopped for garnish
Paprika, to sprinkle over the top (optional)
Instructions
Preheat your oven to 350 degrees F.
Start by cooking your lobster tail by broiling it in the oven, or boiling it in a pot of salted water. Once it is cooked, give the lobster meat a rough chop and set it to the side.
Next, cook your pasta by adding your elbow macaroni to a large pot of boiling water. Cook it until the pasta is al dente, for about 10 minutes. Drain the water and set the pasta to the side.
Start making your cheese sauce by melting the butter in a large pot over medium heat. Sprinkle in the flour and stir it around until the flour completely absorbs the butter.
Now pour in your heavy cream and whisk it around until the roux is smooth and blended in with the cream. Gently pour in your remaining milk.
Sprinkle in half of all of your cheeses. Stir the cheese mixture until the cheese is completely melted. Stir the mixture constantly so that it does not burn.
Season the cheese sauce with all of the seasonings including the seasoned salt, old bay seasoning, pepper, garlic powder and onion powder. Stir it until fully combined, then remove the sauce from the heat.
Spray a 9x13 baking dish with non-stick spray. Add your pasta into the baking dish and pour your cheese sauce directly over the top. Stir it around until all of the noodles are coated.
Gently fold in your lobster meat so that it is well combined. Sprinkle the remaining cheese right over the top of the mac and cheese.
OPTIONAL: sprinkle the top with chopped parsley and a little paprika.
Place the dish in the oven and bake for about 20 minutes or until the top is golden brown. Let the dish sit for at least 5-7 minutes before serving.
Nutrition Information
Yield
8
Serving Size
1
Amount Per Serving
Calories

603
Total Fat

39g
Saturated Fat

24g
Trans Fat

1g
Unsaturated Fat

12g
Cholesterol

156mg
Sodium

1557mg
Carbohydrates

29g
Fiber

1g
Sugar

7g
Protein

33g